Bantamarium Kits are living dioramas made simple. We have discovered a cost-efficient way to take the heavy lifting out of miniature world-building. Use our cutting-edge platform to customize a tailored starter kit or grab one of the complete kits strategically crafted to give you everything you'll need to replicate one of my viral ecosystems. Choose between making a bioactive habitat or a simplified, worry-free artistic centerfold when you decide if your kit will be a Bantamarium or Bantam.Replica!
---
Introducing Pre-Made Kits
---
Beginner-Friendly Starter Kits
---
Complete DIY Kits
Take the complicated calculations of being a world builder out of the equation when you get one of these complete kits. They come fully loaded with everything needed to make one of many signature bantamariums currently trending everywhere. Each kit comes with glassware, substrate, decor, and anything else necessary to make your very own bantamarium… All for one incredibly low price!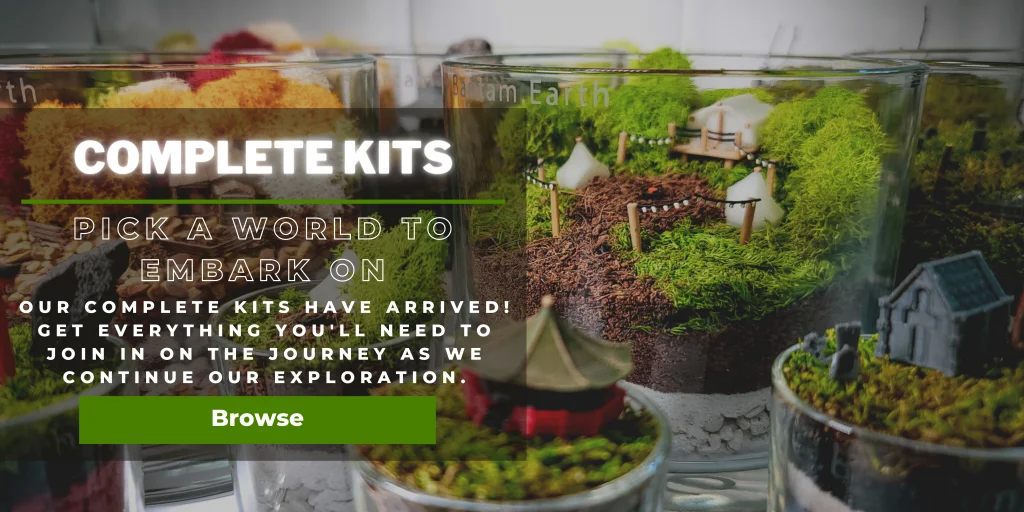 ---
Preserved Plants VS Living Plants
With your Bantamarium kit, it's your choice on going with a true living diorama or with a replica. Living dioramas utilize living plants and may or may not house small inhabitants. Meanwhile, Bantam Replicas are made entirely with preserved plants. Replicas need no caretaking and are great for bathrooms or dorm rooms. Here are a few more things to consider before choosing which route you'll go with:
---