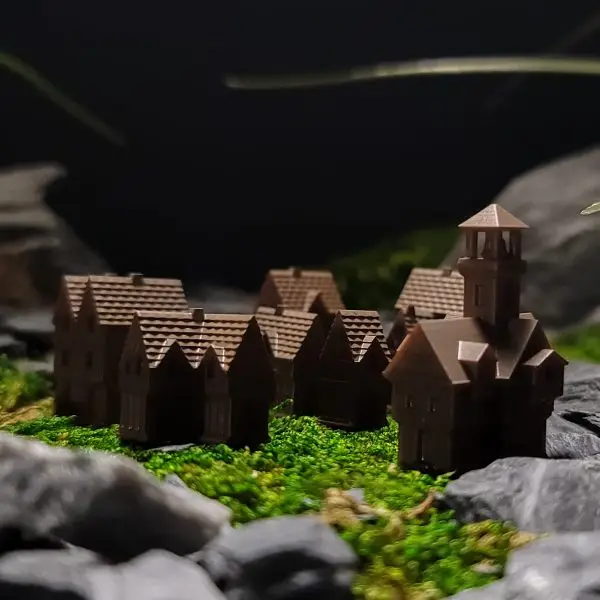 Miniature Wooden Town Decor Set
$19.99
ELEVATE YOUR NEXT VIVARIUM WITH A TOUCH OF REALISM. Immerse your terrarium/aquarium with an eye-catching miniature scenery set. Bantam Models are highly detailed and customizable allowing the ultimate level of creativity to flourish for every level DIY enthusiast.
AN INTEGRATED BUNDLE AT A GREAT VALUE. This Italian-inspired Pompeii Ruins (Temple of Apollo) Decor comes complete with handcrafted detail and photo accuracy for an incredibly low price.
MAKE IT YOUR OWN WITH TOTAL CUSTOMIZATION. Bantam.Decor is supplied unpainted and unassembled giving you total control over your scapes individuality and theme.
MADE IN THE USA. These models are fully tested, proven, and manufactured right here in Florida using eco-friendly plastic safe for vivarium use. An aquarium-safe sealant is highly recommended for any models being painted and/or glued.
Additional information
| | |
| --- | --- |
| Weight | 0.058 lbs |
| Dimensions | 2.25 × 1.50 × 1.50 in |
| Decor Type | Model |
| brand | Bantam.Earth |
| Material Color | Grey/Brown |
| Medium | Resin |
What's Included
Miniature Wooden House Decor (7pc); 12.70 x 12.70x 20.32 mm
Miniature Wooden Church Decor (7pc); 15.24 x 25.40  x 33.78 mm
Dimensions = L x W x H
Only logged in customers who have purchased this product may leave a review.
More From This Collection…